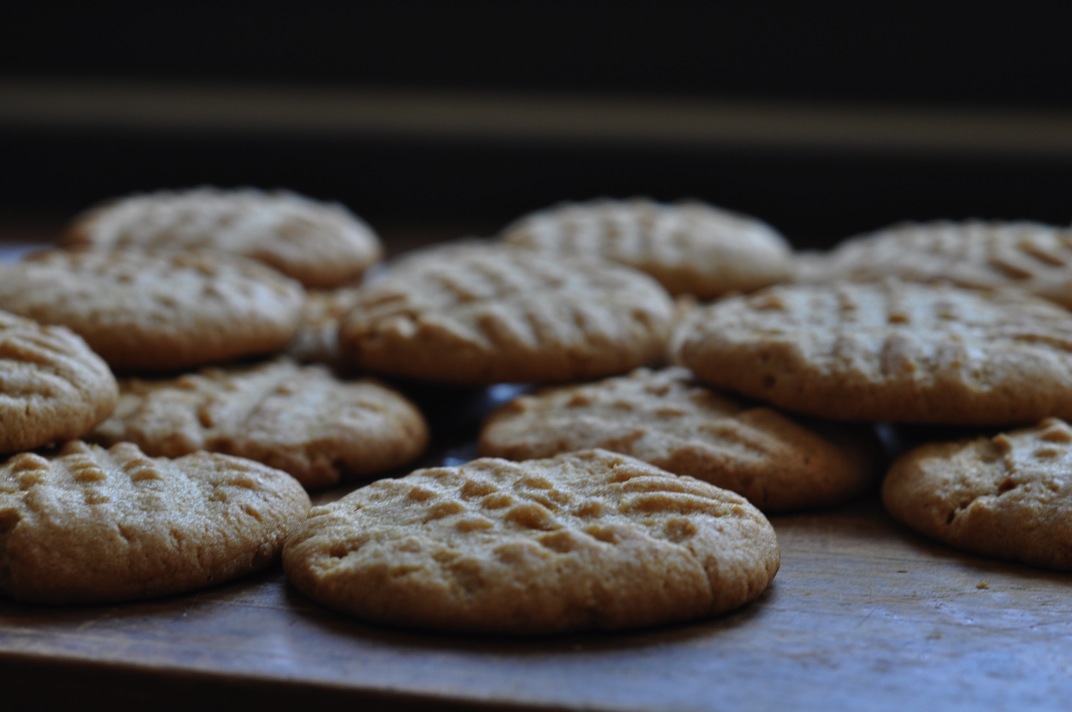 I don't think I've ever made peanut butter cookies before. How said is that? Sure, I've made cookies and various other treats with peanut butter in them but I've never made a straight-up peanut butter cookie. That's right, I've never had the pleasure of smooshing fork marks into the top of thick, rich, peanutty dough balls. Truthfully, I've always been a little put off my recipes calling for peanut butter and butter in PB cookies. Why do they need both?
It's only fair to give this standard recipe a try before declaring it ridiculous. it just so happens that my grandmother's recipe file (let's just call it The File) contains such a peanut butter cookie recipe. It's on a leaf of notepaper that fell out of The File's torn bottom back at my dad's house. Peanut butter cookies are at the top of the page and below is a recipe for Icebox Cookies, followed by Coconut Haystacks on the back. There are little notes in the margins next to each recipe, one noting that the PB cookies are a nice, small recipe. The icebox cookies are also described as a small recipe and a note says "better double it". I love these little voices from past kitchens. I don't know whose they are, since the handwriting doesn't really look like my grandmother's. I'm guessing that my great-grandmother (G.B.) wrote these lines. She was the queen in the sweets department. I can picture her planning a day of cookie baking for some special occasion.
Here they are, plain-old peanut butter cookies. They're far from a secret family recipe but as my first peanut butter cookies, I'm quite proud of them. I'm also proud of myself for hustling them out of the house as soon as I baked them. I took these cookies (along with some lovely chocolate chip cherry cookies I made yesterday) to Lee's work this morning. Giving away baked goods is always more satisfying than eating all of them yourself. I assure you, though, I tested these cookies and they are good!
Peanut Butter Cookies
From The File
1/2 cup room-temperature butter
1/2 cup granulated sugar
1/2 cup brown sugar
1/2 cup peanut butter
1 1/2 cups flour
1/2 teaspoon baking soda
1 teaspoon vanilla extract
1 egg, beaten
Combine the flour and baking soda in a medium bowl.
In the bowl of a stand mixer (or by hand if you're buff like me), cream together the butter and sugar. Add the peanut butter and blend thoroughly.
Add the beaten egg and vanilla extract
Add the flour mixture, one cup at a time, to the wet ingredients. Mix until you have a smooth dough.
Cover dough with plastic wrap and refrigerate for as long as you can wait to make your cookies (not part of the original recipe).
Preheat oven to 375 degrees F (a "medium oven", as the recipe says).
Spoon dough onto parchment, Silpat, or oil-coated cookie sheets (I ended up with 22 cookies).
Smoosh the tops of the balls with the bottom of a fork in perpendicular directions.
Bake for 12 minutes or until cookies smell yummy and you can't wait to eat one!